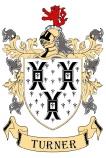 Coats of Arms were originally designed as a way of identifying Knights in armour who, without their distinctive shields and surcoats, would have all looked alike on the battlefield or tournament ground.
Originally each Knight probably chose or invented his own Coat of Arms, often proclaiming his own strength and bravery by depicting fierce creatures. Later the right to bear the Arms became hereditary.
During the 13th century the appearance of a new Knight at a tournament would be greeted by a Herald sounding a trumpet. The Herald would explain the devices and symbols on the competing Knights shield and coat armour to the assembled audience, this knowledge has become known as "Heraldry"
The Helm or Helmet: The shape has varied in different ages and countries, lots of artistic licence was used.
The Wreath or Torse: Traditional made from two pieces of silk twisted together, often by the Knights Lady, to form six twists.
The Crest: Originated to distinguish one chief from another on the battlefield or tournament ground should the shield and banner be destroyed - consequently no crest was ever granted to a woman. Originally carved from light wood or made from moulded boiled leather and fastened to the Helm by the Wreath.
The Mantling: Originally a piece of cloth spread over the back of the Helm to protect the wearer from the sun or rain. Often deliberately shredded to show or imply that the wearer has seen action on the battlefield.
The Shield: The main object upon which the devices and symbols of Heraldry are depicted.